Zu Ihrer Sicherheit und der weiteren Eindämmung des Coronavirus finden alle Veranstaltungen unter Einhaltung der gesetzlichen Vorschriften statt. Bitte beachten Sie die Hygienemaßnahmen vor Ort.
Rescheduled
Previous date:
Irish Folk Rock Party - 7th Annual - neuer Termin!
with Saor Patrol, The Krusty Moors, Sean Mc Gurrin, Des Kelly & more! &nbsp
Kronenplatz 1
76133
Karlsruhe
Event organiser:
Stadtjugendausschuss e.V. Karlsruhe JUBEZ, Kronenplatz 1, 76133 Karlsruhe, Deutschland
Information on concessions
Ermäßigung:
- Rollstuhlfahrer + Schwerbehinderte mit B im Ausweis zahlen Normalpreis, Begleitperson hat freien Eintritt ohne Ticket

Weitere Ermäßigungen bitte im Jubez-Büro erfragen
Di.-Fr. 14-18 Uhr, Fr. Malik 0721-133-5630 / jubez@stja.de
Event info
Scruffy's & Jubez present Karlsruhes 7th Annual
Irish Folk Rock Party VII
with Saor Patrol, The Krusty Moors, Sean Mc Gurrin, Des Kelly & more!
Event location
Jubez Karlsruhe
Kronenplatz 1
76133 Karlsruhe
Germany
Plan route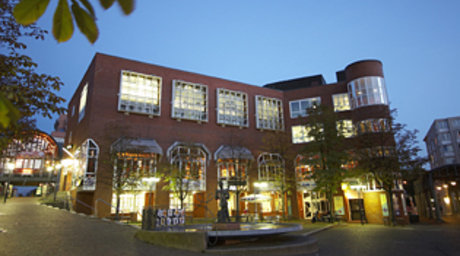 Das Kulturzentrum jubez in der Karlsruher City ist eine Einrichtung der kulturellen Bildung für Kinder und Jugendliche und ein etablierter Veranstaltungsort, hier begegnen sich Liveprogramm und Kreativangebote.

Im Veranstaltungsbereich reicht die Angebotspalette von Konzerten aller populären Stile über Newcomer-Wettbewerbe wie das "New Bands Festival", Kleinkunst, Kabarett, Comedy und Theateraufführungen bis hin zu Lesungen, Vorträgen und Diskussionsforen.

In der Medien-, Kunst-, Foto-, Holz-, Keramik- Theater- und Textilwerkstatt finden Kurse, Projekte und eine enge Kooperation mit Karlsruher Schulen statt. Außerdem stehen die Türen der Werkstätten Kindern und Jugendlichen an den Nachmittagen auch ohne Anmeldung und Gebühr offen.

Das jubez legt Wert auf eine kulturelle Bandbreite und versteht sich darüber hinaus als Ort der Auseinandersetzung mit gesellschaftlich und politisch relevanten Themen.