Zu Ihrer Sicherheit und der weiteren Eindämmung des Coronavirus finden alle Veranstaltungen unter Einhaltung der gesetzlichen Vorschriften statt. Bitte beachten Sie die Hygienemaßnahmen vor Ort.
Rescheduled
Previous date:
Hollywood Film-Gala
Schützenstraße 100
79822
Titisee-Neustadt
Tickets from €32.90 *
Concession price available
Event organiser:
Star Entertainment GmbH, Friedrichstraße 125, 10117 Berlin, Deutschland
Event info
Die beste Filmmusik aller Zeiten!
Hollywood Film Gala mit Film Ausschnitten

Inhalt:
Hans Zimmer - Fluch der Karibik , Gladiator , Interstellar, König der Löwen
John Williams - Star Wars , ET, Indiana Jones, Jurassic Parc
Howard Shore - Der Herr der Ringe & Der Hobbit
Ennio Morricone - Spiel mir das Lied vom Tod , The Good the Bad and the Ugly
James Bond - Goldfinger , Live and Let Die, Diamonds are Forever , No Time to Die by Billie Ellish & Skyfall by Adele
& zum krönenden Abschluss
James Horner - Titanic
Event location
Hochfirstschanze
Schützenstraße 100
79822 Titisee-Neustadt
Germany
Plan route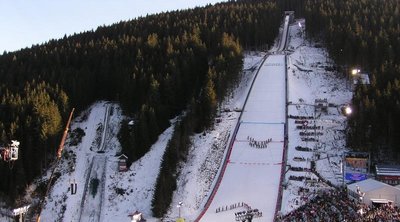 Die Hochfirstschanze in Titisee Neustadt, benannt nach dem Berg Hochfirst im Schwarzwald, ist die größte Naturschanze in Deutschland. Seit 1950 steht die Sprungschanze an ihrem aktuellen Standort und ist nach mehreren Umbauarbeiten ab Winter 2001 offizielle Ausrichtungsstelle des FIS Skisprung Weltcup.

Im Sommer bietet die Hochfirstschanze eine großartige Kulisse für Open-Air Veranstaltungen im besonderen Ambiente. Der Veranstaltungsort wurde einer höheren Besucheranzahl angepasst und bietet somit die optimalen Voraussetzungen für Großevents.

Erleben Sie eine unvergessliche Zeit an der Heimatschanze der "Schwarzwaldadler" Martin Schmitt, Sven Hannawald und Dieter Thoma.